Many college professors have led interesting lives, gathering bits of experience and information along the way that eventually feature in their lectures. However, it's pretty rare to find a professor who has had out-of-this-world experiences – literally – during their lifetime. Instructors like Chris Hadfield bring that totally unique perspective to the classroom, and in case you didn't know, he's the Canadian astronaut who recorded the very appropriate "Space Oddity," by David Bowie, while hovering above the Earth. After retiring from the Canadian Space Agency in June 2013, Hadfield recently agreed to be a professor of aviation at Ontario University. He is among an all-star group of professors who have given back to the educational community, having had the unusual experience of being astronauts.

10. Jeffrey Hoffman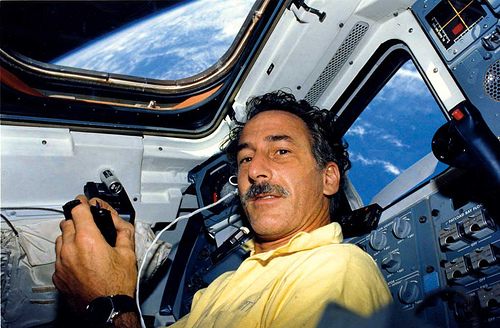 Jeffrey Hoffman is currently Professor of the Practice in Aeronautics and Astronautics at MIT, but he completed a very significant amount of fieldwork prior to teaching. Hoffman's education includes a BA in astronomy, attained in 1966 from Amherst College, followed by a doctorate in astrophysics achieved at Harvard five years later; and he rounded this out in 1988 with a master's degree in materials science from Rice University. Hoffman had a particular interest in gamma ray and X-ray astronomy, and he worked on a project involving both for MIT between 1975 and 1978. However, it was in 1979 that he took on his most stellar role as an astronaut – participating in five shuttle missions in subsequent years. His fourth flight may well have been the highlight of those voyages, as on it Hoffman was part of a crew that helped restore the Hubble Space Telescope. In total, he has clocked up over 1,211 hours and 21.5 million miles beyond our atmosphere.
9. Stephen Robinson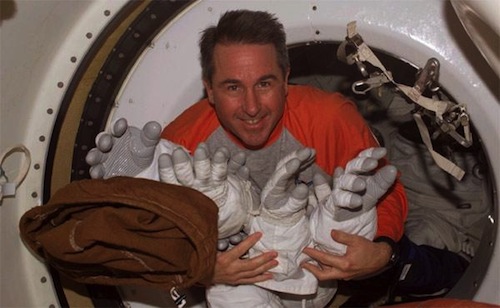 Stephen Robinson began his time with NASA in 1975 in the agency's Ames Research Center, and he graduated from the University of California at Davis with a joint BSc degree in mechanical and aeronautical engineering three years later. However, it wasn't until 1979 that Robinson made it official with NASA when he became a research scientist, pursuing an MSc degree and a doctorate whilst under the agency's employ. He was chosen to be an astronaut in 1994 and went on to fly on four space shuttle missions, clocking 48 days and 19.8 million miles out in the cosmos. That said, Robinson put his space-exploring days behind him when he left NASA in June 2012, and he went on to become a professor of mechanical and aerospace engineering at the University of California, Davis that fall. The dean of the College of Engineering, Enrique J. Lavernia, praised the retired astronaut, saying, "Dr. Robinson brings a wealth of experience as he returns to UC Davis."
8. Jay Buckey
An alumnus of Cornell University, New York native Dr. Jay Buckey received a BSc in electrical engineering in 1977 and then switched gears a bit to earn his doctorate in medicine from Cornell University Medical College four years later. Interestingly, it was while Buckey was a medical intern that he answered his calling to pursue a career with the space program. Specifically, as project manager and investigator in an experiment titled "Cardiovascular Adaptation to Zero Gravity," he began researching how the cardiovascular system is affected by space flight. Buckey also worked as a payload specialist with NASA and completed a 16-day Spacelab flight during which he studied how the brain and nervous system react to microgravity. After more than 381 hours in space, he became a professor of medicine at Dartmouth Medical School; in addition, he serves as an adjunct professor at the college's Thayer School of Engineering.
7. Mae Jemison
Mae Jemison has traveled extensively throughout the world, so it makes sense that she took the next step: a journey into space. Jemison and her family moved from Decatur, Alabama to Chicago when she was three. She received her BSc from Stanford University in California in 1977 and then four years later went on to earn a doctorate in medicine at Cornell University, spending time in Kenya, Cuba and Thailand while studying for the latter. In 1987 NASA chose Jemison for its astronaut program, and in 1992 she became the first black woman to voyage into space, doing so on an eight-day mission. After spending 190 hours and 30 minutes beyond Earth's atmosphere, Jemison left NASA in 1993. She went on to become a professor teaching environmental studies at Dartmouth College between 1995 and 2002 and has also been an A.D. White Professor-at-Large at Cornell University.
6. Ronald Sega
Ronald Sega's experience in education is almost as impressive as his experience with NASA. He double majored at the U.S. Air Force Academy, earning a BSc in math and physics in 1974. He then received an MSc in physics from Ohio State University a year later, and in 1982 he earned a doctorate in electrical engineering from the University of Colorado. Sega was flying long before he orbited the Earth, having finished his pilot training in 1976. A brief career as an astronaut later followed when in 1991 he was selected as a mission specialist for Space Shuttle flight crews and ultimately spent nine days in space. In July 1996 Sega left his work at the space agency to join the University of Colorado at Colorado Springs as the dean of the College of Engineering and Applied Science. He is currently Vice President and Enterprise Executive for Energy and the Environment at the University of Colorado and also serves as the Woodward professor of systems engineering there.
5. Bonnie Dunbar
Bonnie Dunbar is currently M.D. Anderson Professor and Director of Aerospace Engineering in the mechanical engineering department at the University of Houston Cullen College of Engineering. Prior to that, the Washington State native had become an astronaut in 1981 and worked for 24 years at NASA on a variety of assignments, including five space flight missions – and a total of over 50 days out in the cosmos. During that time, Dunbar was the deputy associate administrator at the Office of Life and Microgravity Sciences at NASA HQ in Washington, D.C. She then moved to Star City, Russia to train as a reserve crewmember for a flight on the Mir space station; chaired the International Space Station Training Readiness Reviews; and most recently was NASA's Associate Director of Technology Integration and Risk Management. In 2005 Dunbar left NASA to become the CEO of the Seattle Museum of Flight. She earned BSc and MSc degrees from the University of Washington in 1971 and 1975 before in 1983 achieving a doctorate in mechanical/biomedical engineering at the University of Houston.
4. Gregory Chamitoff
It's not all work and no play for Greg Chamitoff – seen here playing a game of chess aboard the International Space Station – even though his credentials may make it seem that way. Chamitoff holds a BSc in electrical engineering from California Polytechnic State University, an MSc in aeronautical engineering from Cal Tech, a doctorate in aeronautics and astronautics from MIT, and another MSc degree in space science with a concentration in planetary geology from the University of Houston-Clear Lake. After earning his doctorate in 1992, Chamitoff worked with NASA's Mission Operations from 1995, and just three years later he was chosen as an astronaut candidate. He spent half a year on the International Space Station, undertaking two spacewalks and logging close to 200 days there. In 2013 he retired from NASA to become a Professor of Engineering Practice in the Department of Aerospace Engineering at Texas A&M University.
3. Harrison Schmitt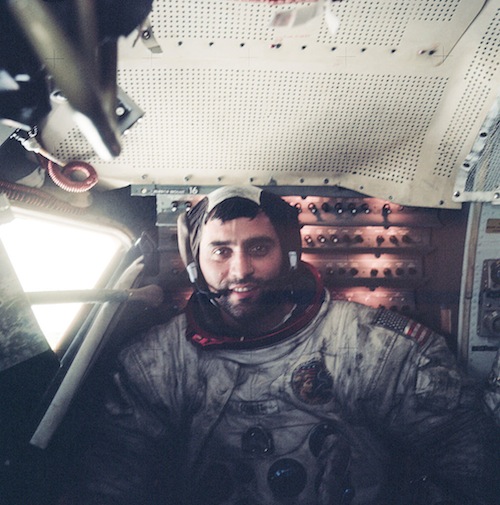 Harrison Schmitt earned a BSc in science from Cal Tech in 1957 and a doctorate in geology from Harvard seven years later. Schmitt was employed as a teaching fellow at the latter institution in 1961, and he also worked with the U.S. Geological Survey's Astrogeology Center in Flagstaff, Arizona. Then in 1965 he was picked by NASA to be a scientist-astronaut. During his training, which lasted over 12 months, Schmitt proved himself to be extremely valuable, as he was able to help his flight crew through his knowledge of lunar navigation and geological features identification. He joined the small team aboard Apollo 17 – the last Apollo lunar mission – and is known for being the final one of those astronauts to step onto the Moon in 1972. Over two decades after that momentous occasion, Schmitt became an Adjunct Professor of Engineering with the University of Wisconsin.
2. Sally Ride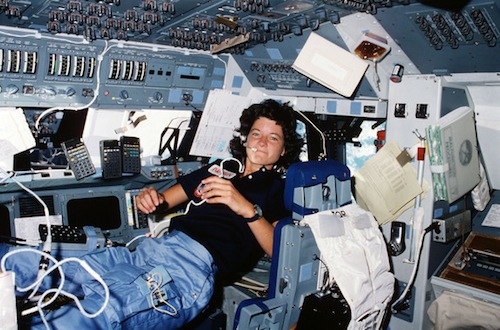 The late Sally Ride is best known as the first American woman to travel into space. She received a BSc in physics and a BA in English from Stanford University, before earning an MSc degree in 1975 and a doctorate in physics in 1978, both also from Stanford. In 1978 Ride also pulled ahead of 1,000 other applicants to claim a coveted spot in the NASA astronaut program and, as a result, voyaged into space in 1983 on the Challenger shuttle. She then flew on a second mission the following year, this time for eight days to study the Earth. In 1989 Ride became Director of the California Space Institute and a physics professor at the University of California San Diego. When she died in 2012, she left behind the legacy of her Sally Ride Science initiative, which produces classroom tools and professional programs for educators leading grades four through eight.
1. Neil Armstrong
Ask anyone to name a famous astronaut and they'll probably name Neil Armstrong. Yet though he is well known for being the first man to walk on the Moon, relatively few people know that he went on to instruct others at the University of Cincinnati. Armstrong received his own education at Purdue University, where he earned a BSc in aeronautical engineering in 1955, and later the University of Southern California, gaining an MSc in aerospace engineering in 1970. In the field, Armstrong first served as a naval aviator before becoming a research pilot. He officially became an astronaut in 1962 and in 1969 was part of Apollo 11, the legendary expedition that allowed him to become the first astronaut to land on the Moon and walk out onto its surface. That one small step ultimately led to his academic career as Professor of Aerospace Engineering at the University of Cincinnati, where he taught between 1971 and 1979. He died in 2012 at the age of 82, having expanded both space travel and the minds of university students.